JOIN US AS WE EXPLORE THE BATTLEFIELDS
&

BRAVERY OF THE PAST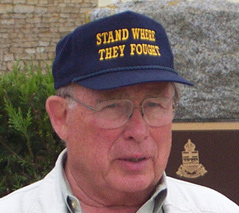 Normandy, the size of Connecticut, witnessed seventy-seven days of conflict that inflicted 600,000 casualties on the opposing armies and population. Focusing only on the events of D-Day limits one to comprehend the magnitude of the conflict that in the following days created 96% of the maiming, mutilations, death, destruction, stench and sorrow.
Funds generated by Normandy Battlefield Tours and book sales are for bilingual descriptive historical markers along the Normandy roadside. Our heroic soldiers' stories must be told standing where they fought.
Normandy, June 2nd to 9th, 2017
The 73rd Anniversary Normandy Tour, June 2nd to 9th, 2017. The tour will start from our Paris, Charles de Gaulle (CDG) airport hotel at dinner, Friday, June 2nd.
June 2nd Friday. Our tour guests arrive throughout the day at our CDG Golden Tulip airport hotel via the hotel courtesy bus and gather at 6:45 PM for socializing and our "Welcome Dinner".
June 3th, Saturday. Our luxury travel coach carries us north along the Seine River to Field Marshal Erwin Rommel's headquarters in Roche Guyon, through Giverny to the Normandy battlefields and the British Airborne Division's landing zones at the eastern end of the 77 day Normandy campaign area. We will visit Pegasus Bridge, the British Airborne Museum, possibly meet Madame Arlette Gondree-Pritchard at the first liberated home-cafe, General Gale's Ranville church HQ, the nostalgic British airborne cemetery, the Merville Battery Sound and Light Museum and German pillboxes overlooking the British Sword Beach. Late afternoon to Caen mid town Hotel Moderne and check-in for five nights. Caen is an outstanding modern, gourmand, rebuilt city 88% destroyed by bombs, shellfire and hand to hand combat small arms fire. Dinner at hotel.
June 4th, Sunday. Today we'll tour the British-Canadian beaches (Sword, Juno, Gold) and battle sites (Berniers sur Mer, Courseulles, Hill 112, Villers Bocage, Abbey d'Ardennes). These Allied forces were numerically equal in size to the Americans but had four times as many tanks as the battle strategy was to force the Germans to commit their panzers into this areas' open fields where the allied tanks combined with our air forces and artillery would decimate the enemy forces. Dinner at at the hotel.
June 5th, Monday. The roads will be  busy with wartime vehicles and re-enactors from around the world. Surrounded by the uniforms of that day you will feel you are part of a Hollywood movie set.  We'll visit the newly opened Overlord Museum, Arromanches Circle Cinema 360 theater, Longues Battery bunkers and blockhouses of Hitler's "impenetrable Atlantic Wall" commanding Omaha Beach, it's emotional massive US cemetery, the beach as depicted in "Private Ryan" and "The Longest Day" and the 120 foot high Pointe du Hoc cliffs scaled by the US Rangers. There is much to see through out the area all day. Dinner in Caen, on your own, in one of the many nearby restaurants with English menus.
June 6th, Tuesday. D-DAY (which was Tuesday in 1944). We'll travel to the Utah Beach–Ste. Mere Eglise area on the Cherbourg peninsula to study a dozen battle sites. Re-enactors will exhibit period equipment and uniforms. The towns will be abundantly decorated with memorabilia and allied flags. We'll visit La Barquette Lock, Angoville-au-Plain church,  the Utah Beach Museum, Meziers crossroads, Ste Mere Eglise, the Airborne Museum, la Fiere causeway, Hill 30, Chef du Pont, Deadman's Corner and Carentan. There maybe a demonstration parachute jump into the same farmland as 73 years ago .You will witness the festivities and mingle amongst returning campaign veterans. Dinner at hotel.
June 7th, Wednesday. Traveling south west we'll visit the hard fought Martinville Ridge (Hill 192) overlooking the 88% destroyed City of St. Lo. There are several significant sites to visit before departing this rebuilt modern city. We'll move on to Mont Huisine and the magnificent  Abbey of Mont St. Michel (guided walking tour) built on an island a mile off shore started in 944 AD and the political separation point of the Normandy and Brittany provences  It is also the area where General George C. Patton's Third Army, following up on the army's successfully break through the German lines west of St. Lo,  made an end run around the  enemy defenses. lt'll be a very full day returning to our Caen hotel for dinner.
June 8th, Thursday. We check-out of our  hotel and travel south east to the Normandy campaign closing battle sites Falaise, St Lambert sur Dives, Moissy Crossing, Chambois, Coudehard to Vimoutiers. This will lead us back to our previous CDG airport hotel for our last evening and "Farewell Dinner."
June 9th, Friday. The hotel courtesy van will take us to our respective airline departure terminals for return to the US or on going connections.
Summarizing and cost included: 30+ battle sites, A/C Luxury Motor coach, 7 nights hotels, 7 breakfasts, 6 dinners, 6 museums and a Mont St Michel Abbey walking tour. All tips included except one for the coach driver (who also handles our luggage).
Carlton Joyce, (host, lecturer and author "Stand Where They Fought")
Website: www.NormandyBattlefields.com
Email: NormandyTours@aol.com
cell 404-357-5343 (rapid call return)
Deposit checks payable to Historical Marker Fund
Add this web site to your "Favorites"
Mail to:
Normandy Tours Inc.,
Suite 1305
1525 Grayson Hwy
Grayson, GA 30017-1916     (Atlanta suburb)
This is a pilgrimage to learn and honor our veterans as heroes past and present.
Thank you for your interest and participation.
Double occupancy $2595 (per person)
Single occupancy $2995
Deposit required of $250 per person.
Air fare not included. Best deals and FF seats available by reserving early.
The beneficial currency exchange rate has reduced the price 15-20%